Prepared for Catherine Brooks
Hi Catherine,
4/17/23 Please note that I have edited this Opinion of Value.
Thank you for the opportunity to speak with you about pricing, and potentially marketing and selling your property.
Property valuation and appraisal is a mixture of analysis and intuition. We sift through the numbers and apply as much objectivity as possible, leavened with experience and intuition.
The analysis part was learned when I was doing bank appraisals some years ago. Basically, it consists of comparing roughly similar properties (or as close as we can get) that have sold relatively recently, and making adjustments in order to come out with a number that reflects the possible value of your property. I've used adjustments that are as objective as possible (although these values can be debated as well), as well as more subjective ones based on my experience and intuition.
Appraisal-style analysis and adjustment table, below.
You can see the details of the comparables by clicking on the addresses in the analysis table as well as the property discussions below that.
Click here for the latest Back Bay market data.
See pricing discussion and conclusion immediately below the following table.
YOUR PROPERTY
Your property has several strengths with respect to the market. First and foremost is our living room. You walk in and the angels sing. High ceilings, sun that doesn't quit, and those beautiful windows! It's great that your bath has been renovated. The downside is the smaill kitchen. Some folks are going to need a bigger kitchen and some will not like the oven arrangement. To some, that will not matter.
Which is all to say like all properties, that we just have to position this property correctly with respect to price and marketing.
COMMENTS ON REPORT AND COMPARABLE PROPERTIES:
As you see in the data analysis sheet above, I've laid out the most comparable 1 bed units I could find that have sold this year. That having been said, this year is basically a tale of two eras. Up through mid-April, there was fierce competition for similar properties. The good news: units like yours are still in high demand and there are few similar units on the market. The not as good news is that we are operating on a slightly lower price level. My search criteria included listings in buildings of a similar nature, and of similar size. I wanted to see the context of our pricing. The individual dollar adjustments are conservative, and once again, can certainly be debated. But in the end, I think they give a fairly accurate picture of valuation.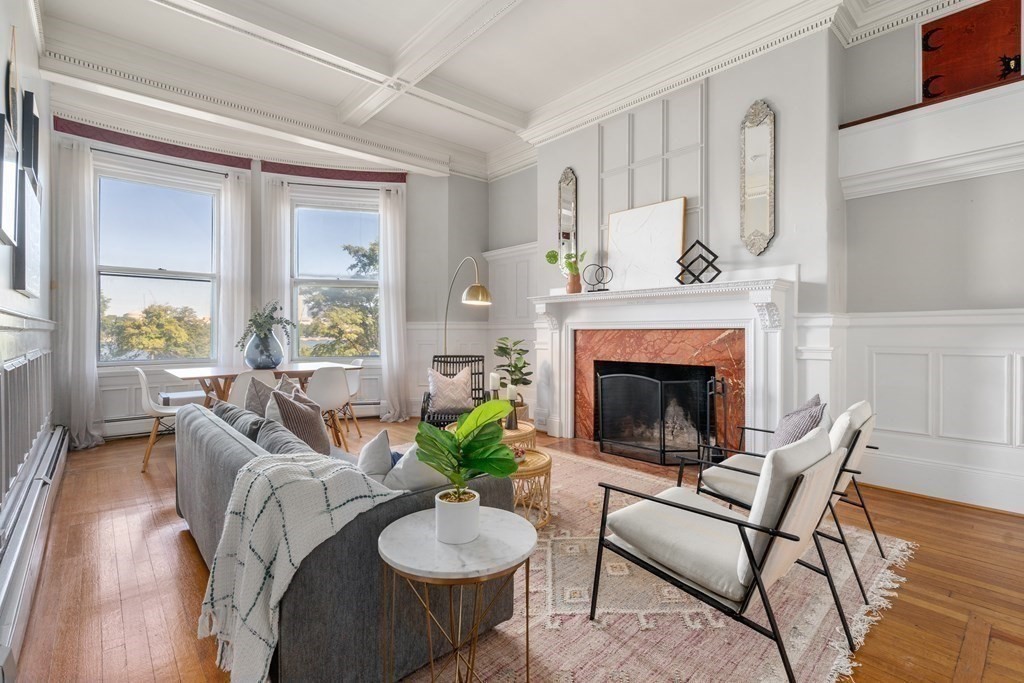 As with all of these, it's a case of pluses and minuses. The first thing about this is the location. Obviously very close to yours, although closer to Mass Ave.
The size, as with all of these, was very close. I've adjusted $/per SF conservatively at $500/SF. This is because the square footage is so similar that I think a little more or less square footage is not worth as much as the overall dollars per square foot (most of these sold for $1100-1200 ish per square foot). Also, the square footage is only one component of the value.
One of the appeals of this unit is the high ceilings along with biug windows and great trim, which yours also has. The other things it has are a river view and a larger, nicely refinished and fully qquipped kitchen, so I had to balance those out.
This home went under agreement on 10/8 for $770,000, $21,000 above ask in 7 days on-market. Probably multiple offers. The ask of $749k was very reasonable, and that attracted the buyers. This is what I want for your place. Using this as a model, my analysis of this property suggests a selling price for yours of about $758,500+/-.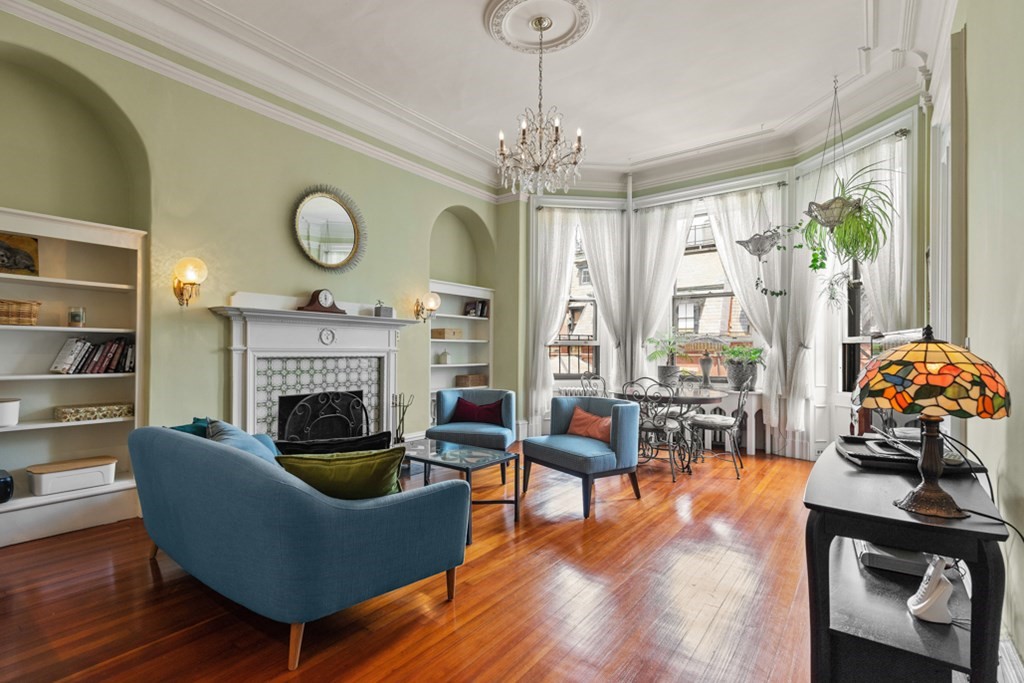 Terrible green color notwithstanding, nice front facing unit with a southern exposure, Comm Ave mall view. Kitchen is older, but bigger and fully applianced. Wood burning fireplace.
Listed on 5/11 at $769k, it sold at $780k after 16 days on market. Market conditions were different at that time, so I adjusted 2% for that. My analysis of this property suggests a selling price for yours of $757,400+-.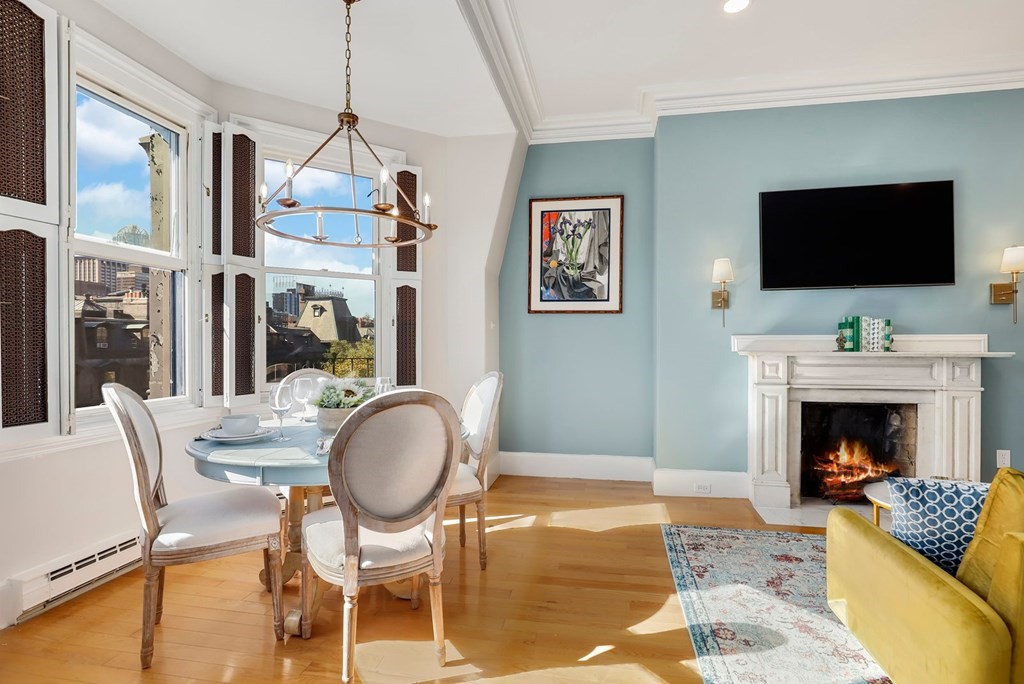 This one endede up selling at asking after 7 days on-market. Very similar layout. Similar sized but more fully applianced and updated kitchen. But your living room is way nicer, higher ceilings, etc. It does have a roofdeck it shares with the 4R unit as well as a wood burning fireplace. I kind of had to rejigger my feelings about the appeal of this place...The living room is actually a good size and there are actually some nreally nice custom built-ins.
This unit was listed on Sept 30 of this year of this year and went under agreement in 7 days. Because of the abbreviated time on-market, my assumption is that it went either for asking or above. For our purposes, I assumed asking price. My analysis suggests selling price for your unit of approximately $736,500+-.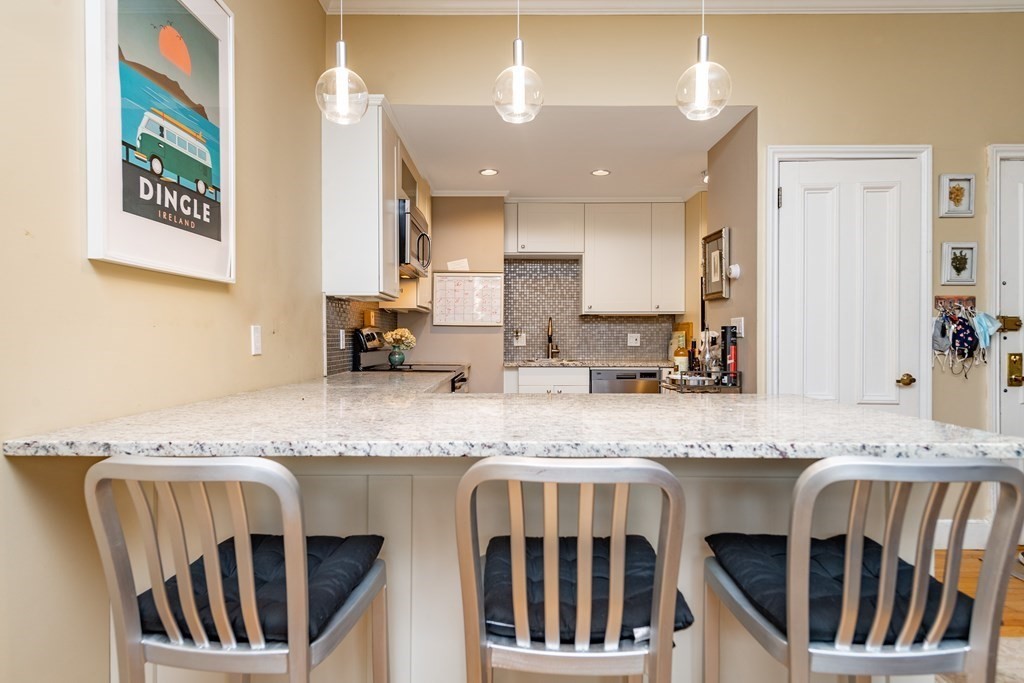 Once again, the angels do not sing for the living room. But it's got a really nicely renovated fully-applianced open kitchen and a more contemporary bath, both of which the "market" likes. I I kind of readjused my thinking on this unit as well. Common roof deck, which has some minimal value as well as a wood burning FP.
This unit was listed at $799,000 on 2/10 and went under agreement 12 days later at $775k. WThis was a diferent era, and I had to adjust for the market at 5%. My analysis suggests selling price for your unit of approximately $733,750+-.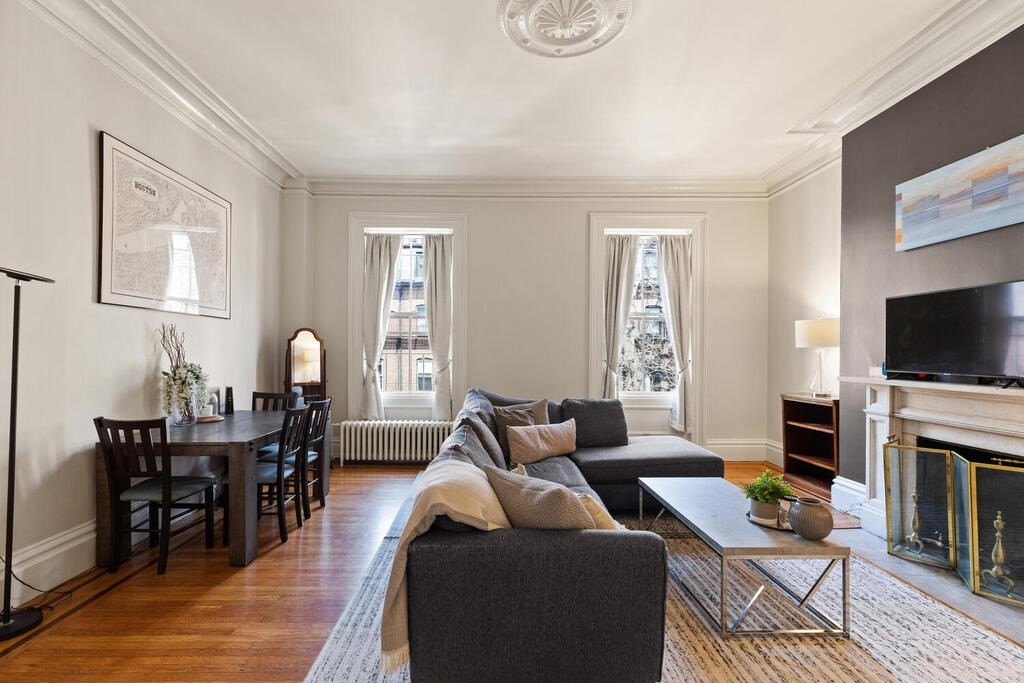 Nice unit with a slightly wider floorplate. Nice living area without quite the drama of yours, offset by a fully applianced kitchen. North facing, so slightly inferior sun. There is additional storage in the basement. There is also an elevator.
This unit was listed at $799,000 on 4/7/22, it went under agreement on on 4/12 for $843,000. The thing about this is that they sold this at the height of the market. They put it on at a price that I don't think you would put it on for now, and there was a bidding war for it that took it way above asking. I think if you put it on for $799k now, it would sit. My analysis suggests selling price for your unit of approximately $748,850+-.
Top floor in rear stack in your building. Same size kitchen, but fully applianced, nicely reno'd contemporary bath. Smaller. Doesn't have the side windows, but good above-alley view.
This unit was listed at $695,000 on 5/18/22, it went under agreement on on 5/25 after 6 days for $708,000. My analysis suggests selling price for your unit of approximately $742,850+-.
This was an off-market sale. 3rd floor front unit in your building. On the one hand, it was a front unit. On the other, it was smaller
The only info I have for this unit is that the asling was $695,000. Sold for $749k on 7/29/22. My analysis suggests selling price for your unit of approximately $749,000+-.
CONCLUSION
The market is just not as happy as it was last year, and sales are off 20% in comparison to this period last year (see market report) with about 50% more listings. If you were putting your home on the market at this time, my analysis tells me that the correct asking price range would be $739,000-$749,000. I'm happier with $739,000. My instinct tells me that the lower asking will get more response, as you can see from some of the over-ask sales in our comparison.
Having said that, 1 bedroom units are the wheelhouse of the Back Bay,and it is an attractive unit so I think we will sell it relatively easily. My only concern is the kitchen, so I think we need to err on the conservative side.
Getting asking price or above depends upon getting multiple offers. The question is, what is the best price to list at in order to get to that highest price?
My M.O. in listing prices has been to list reasonably based on already sold comparable properties (rather than hanging it out at an overly high price and hoping someone will make an offer). The goal is to collect competitive bids bids at the end of a relatively short, predetermined marketing period( i.e list on Wednesday, broker open Thursday, commuter open house Friday, open houses Saturday and Sunday, and review offers Tuesday evening unless a fabulous offer comes down first). In this way, we create demand for your property, and a competitive situation for buyers. This gives you the best possible selling price and the most highly motivated buyer. The greatest number of highly motivated buyers are out there the first week that your property is on the market. After that, motivation diminishes as more people who are in the market have seen your property. Time is not your friend in this case. If your unit is really worth more to the market, we will get a higher price. If not, we won't
My suggested listing price as of *right now* is $739,000 to $749,000
I believe that that is the price that will attract the largest number of buyers and the most competition for your property.
Best regards,
Joe